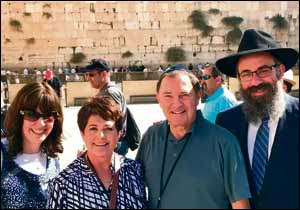 WALL VISIT: Rabbi Benny Zippel (right), his wife Sharonne (left), Utah Governor Gary Herbert and his wife, Jeannette, visit the Western Wall
ARIEL DOMINIQUE HENDELMAN discovers how a Chabad rabbi has brought Jewish life to Utah and forged an unlikely friendship
Rabbi Benny Zippel was surprised when he was initially approached by Lubavitch world headquarters to establish a Chabad house in Salt Lake City, Utah.
It was December, 1991, and Rebbe Menachem Mendel Schneerson, the seventh and last in the line of Chabad Lubavitch leaders, was preparing to celebrate his 90th birthday a few months later.
As a birthday gift, Chabad wanted to establish a presence in Utah, an area that was greatly underserved in terms of Judaism.
Zippel wrote to the rebbe for a blessing before embarking on the mission on February 26.
When a few days passed without a reply, he decided to go see Schneerson in person.
"The rebbe was told who I was and that I was coming to see him about opening up a Chabad house in Salt Lake City.
"He gave me a blessing, that it should be a tremendous success. The next day, he suffered a stroke and didn't speak again for the next two years until his passing.
"We consider it a tremendous privilege that we received that blessing," Zippel recalls.
It was quite a send-off; one that gave Zippel and his wife strength as they moved from their home in the ultra-Orthodox enclave of Crown Heights, Brooklyn, to a place where Jews were a minority amid a Mormon majority.
Zippel was born and raised in Milan and his wife, Sharonne, originally hails from Toronto.
They had been living in Brooklyn for only a couple of years and, needless to say, it was a big move.
Salt Lake City's small Jewish community dates back about 100 years.
When the Zippels arrived, they found a very warm community but one that was experiencing an extremely high rate of intermarriage. "I think a lot of people were wondering how long we were going to last here," Zippel confides.
Notwithstanding, Chabad of Utah has lasted 25 years now in a Jewish community that has grown to approximately 1,500 households and some 5,000 people.
The Zippels have brought Judaism in many ways: classes on Torah and Jewish life; a Jewish school that Zippel's son, Avremi, runs; along with winter and summer camps; and many engaging activities around the Jewish holidays to help the community connect more to its heritage.
"It is a tremendous honour to be the rebbe's ambassadors and to expose more and more people to the wealth of Torah," Zippel explains.
"We are really bringing Judaism to the middle of nowhere.
"There is a big difference between opening a Chabad house in Long Island or California, which are big hotbeds of Judaism where people are in one way or another familiar with it, and starting a Chabad in Utah. It's a lot more challenging.
"When you move into a community where there is a Jewish infrastructure, it's one thing. When you move to a community like this one, you become the infrastructure."
Zippel experienced this immediately after moving, when the Jewish paediatrician in town called to welcome him.
The doctor was not a mohel, who is trained in ritual circumcision, but he had been circumcising Jewish baby boys in Utah for some time.
He invited Zippel to join him; to make a ceremony and say prayers over wine.
In this way, they could make the event closer to a traditional brit mila.
Zippel thanked him for his kind offer, but noted that all the wine in the world wouldn't turn the doctor into a mohel.
Zippel began bringing a mohel from Los Angeles, who would fly out every time a Jewish baby boy was born. The community in Utah still relies on this.
The rabbi also started a kosher food co-op, which delivers orders every four to six weeks from Los Angeles.
The truck brings everything from bread, cheese and pastries to meat. Community members can order whatever they need.
Zippel also initiated the building of two mikvaot, and Chabad's online school.
A Jewish school didn't exist when the family moved to Utah 25 years ago, and the Zippels' six children were all home-schooled by Sharonne until the eighth grade.
His youngest daughter now attends a Chabad high school in Chicago.
Besides adapting to Utah and helping to foster a more vibrant Jewish existence, Zippel unexpectedly took on another endeavour.
Shortly after opening Chabad House, he received a phone call from Jewish man in southern California whose 15-year-old son was at school in Provo, Utah.
Zippel was perplexed as to why this boy would be in school there, where the Mormon population is extremely high and a Jewish presence almost non-existent.
"I went to visit this boy and discovered a whole other side to Utah," Zippel relates.
"Utah is the world capital of residential treatment centres and wilderness therapy programmes.
"I had no idea about this before. Kids with emotional and mental health-related issues were being treated in Utah.
"For the Jewish ones, in my mind, it became sink or swim. So I started a separate endeavour called Chabad of Utah Project Heart, which at the time provided Hebrew education for at-risk teenagers. It's not my programme, but we supply Jewish support to the various treatment programmes in existence."
Zippel recently visited Israel with a delegation of about 50 people from Utah, led by Governor Gary Herbert.
During the trip, Zippel spoke about his work with Project Heart, hoping to educate an Israeli audience on the issue.
Every year, out of the hundreds of Jewish youth who find themselves in Utah treatment centres, a small percentage are Israeli.
Utah has emerged as the state with the highest number of treatment programmes for several reasons.
One is that the Mormon Church puts a great emphasis on education and rehabilitation, because of which Utah enjoys low crime rates.
In addition, Utah's legislature allows for a child under the age of 18 to be brought into therapy without adult consent.
Thus children from all over the world come to Utah for therapy and rehabilitation; whether eating disorders, depression, or drug addiction.
The fact that the Mormon philosophy of education and rehabilitation permeates the state of Utah is not surprising, since Utah hosts the world headquarters of the Mormon religion.
It wasn't long after Zippel moved to Salt Lake City that he received a welcome call from the- then president of the Mormon Church, Gordon B Hinckley.
Zippel had just put up the first public chanukia at the entrance to a prominent shopping centre in Salt Lake City, with a sign that read "Chabad Lubavitch wishes you a happy Chanucah".
"After that, I received a phone call from Hinckley," Zippel recalls.
"He had seen the menorah, loved the idea of it, and wanted to formally welcome me. He invited me to a private meeting in his office.
"It's funny because this was the first public menorah in Salt Lake City and the Jews were up in arms about it.
"They tried to fight it in every possible way, but they couldn't do anything. The Mormons were just the opposite.
"He said to me that he had heard about the rebbe and he was very enthusiastic about our being there."
Hinckley informed Zippel that he believed very strongly in Zippel's mission and that he could for ever count on him as a friend and supporter.
"As it turned out, the gesture was soon put to the test.
Zippel, who at the time had only a student visa and was an Italian citizen, needed to apply for a green card.
He couldn't afford a lawyer, but was told that he didn't need one as a member of the clergy.
The rabbi sent a letter requesting a green card, complete with a glowing recommendation from Utah Senator Orrin Hatch, who is a friend of the Jewish community. Zippel was promptly rejected.
"Basically they told me to pack my bags," Zippel states. "This happened just after my meeting with president Hinckley, so I reached out to him and he said to give him an hour."
Soon after, Zippel received a phone call from the most prominent law firm in Salt Lake City, saying they would take care of it.
They sent a new letter to immigration and a few months later Zippel received his green card.
He continued to reach out to Hinckley over the years, always finding a friendly voice on the other end of the phone, willing to help in any way.
"Hinckley was there for me until the day he passed away, which was on January 28, 2008," Zippel says.
"After he passed away, I received a phone call from his son, who is also a very important member of the church, telling me that his father had received a beautiful silver menorah in honour of his 90th birthday from the Israeli Consul General in Los Angeles.
"His father had left orders that it be given to me, and I still have it.
"The Mormons are very powerful here in Utah, they basically run the state. I'm thankful to count them as friends."