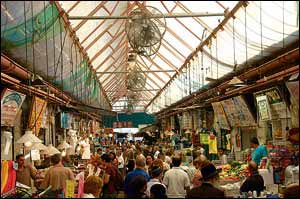 MARKET HALL: The iconic interior of Jerusalem's famous Machane Yehuda market
By Ben Sales
IN another life, Kobi Frig would have been sitting behind vats of spices in Jerusalem's bustling, labyrinthine Machane Yehuda market, hawking paprika, zaatar and cinnamon like his grandfather and father did before him.
Instead, Frig obeyed his father's wishes, went to college, and started a chain of events that transformed the market and led to the closure of his family's shop.
He became a community activist, organising art and music fairs in the market that opened it up to a young clientele and brought in a wave of cafes and restaurants.
Last year, when Frig's father retired, he shut the spice shop and leased the space to a bar.
"The third generation didn't see itself selling nuts and wanted to make a change," said 42-year-old Frig, an event producer.
"There's no question something changed. Whether it's for the best is a matter of perspective. You have good relationships between the stores and the restaurants. The food businesses buy [ingredients] from their neighbours, so the market is maintaining itself."
The story of Frig's family shop has been happening across Machane Yehuda. By day, it's a traditional Middle Eastern bazaar that serves the residents of Israel's capital city.
But by night, it is increasingly becoming a tourist attraction filled with cafes, bars and sit-down restaurants. The change, which began about a decade ago, is thrusting Machane Yehuda's older merchants into a new era.
"It's changed from end to end," said Yosi Avrahami, who has sold nuts in the market for more than 40 years.
"You used to see stores with vegetables and food — tons of vegetable stores . . . I think that will be disappointing, if it will all become beer."
Covering a network of a dozen streets in central Jerusalem, the shuk is a crowded pedestrian mall with hundreds of shops.
Since the market began operating in the late 19th century under Ottoman rule, most of those shops have sold staple foods like produce, baked goods, meat, fish, spices, dried fruit, nuts and household items.
Other stores sell inexpensive clothing, Judaica, sweets or souvenirs.
It has been the target of at least seven terrorist attacks since 1968. It invariably opened for business the next day, if not the same afternoon.
It has undergone a few renovations since its founding: merchants now sell their food from physical stalls, rather than tarps spread on the ground, and many have hung signs above their shops. But it's still far less formal than a grocery shop.
Sellers sit on stools at the front of their stores, hawking tomatoes, halva or chicken in loud, hoarse, competing voices.
Regulars from all walks of Jewish Jerusalem life conduct business on a first-name basis — and pay in cash. The food is kosher and the entire market shuts down for Shabbat.
On a recent weekday evening, the shuk's central avenue looked like it has for decades. Shoppers lugged collapsible carts from stand to stand, doling out money and accumulating plastic bags of fresh food.
Counters piled with olives, challot, dried apricots and rice seasonings beckoned locals and tourists alike — though a branch of Israel's largest coffee chain, Aroma, has also opened there.
In the centre of the street, a young girl in a pink fleece played the recorder in front of a donation basket. Off to the side, an emissary of Chabad checked his phone while manning a table with a pair of unravelled tefillin.
But a side street looked like it came straight out of the city's Zagat guide. A stand near the entrance sold fresh-pressed juice and smoothies — advertising an acai bowl in English and Hebrew.
Nearby was Fishenchips, one of the shuk's first small sit-down places geared toward 20-somethings.
Farther along was a gelato shop and there were bars around the corner. Young people sat chatting over meals and beer at elevated tables.
"It's an amazing atmosphere — good people, always smiling, a fantastic atmosphere, bro," said 20-year-old Dima Kasachuck, who worked behind the counter at a Mexican restaurant and sported bleached hair, ear gauges and a long-sleeve t-shirt emblazoned with a skull.
"I worked in lots of other restaurants, but it was a lower-key atmosphere there. There were more serious people, less fun, less chilling, fewer jokes, just serious work, and it's not fun."
The transformation began in 2006, when Frig persuaded merchants to remain open late one night for a party on Purim. It ended up drawing 4,000 people.
In subsequent years, he put on a series of art, music and culinary festivals in the shuk that exhibited its potential as a communal space for the city's youth.
Restaurateurs soon began renting out shopfronts and replacing traditional sellers.
Even the merchants who have remained have contributed to the market's new feel. Many of their gates are painted with graffiti portraits of Jewish historical figures, so when the stores close, the market becomes a public art exhibit.
Baristas and waiters at the market's newer shops say they love their workplace and its fusion of old and new.
At Roasters, a third-wave cafe, Esther Bromberg said she loves hearing neighbouring merchants yell their cappuccino orders to her — while she feels free to store milk in their fridges.
"What I like the most about the shuk is the combination of the old-school Middle Eastern vibes and the hipster up-and-coming young vibes that we have going together," said Bromberg, a 24-year-old Australian expat.
"We're best friends. We make them coffee — obviously, it's all free — because we're all just neighbours and friends."
But some of Bromberg's neighbours feel differently. The market's older occupants do not all appreciate the new atmosphere and clientele, who sometimes come along with loud music, drunkenness and conversation.
Worse, they said, tourists are there to stroll, gawk and take selfies — not to actually buy the food they're selling.
"It used to be good, now it's not," said Chai Noach, a produce merchant. "It's becoming an entertainment zone. People don't come to buy. They come to hang out, to travel."
Some new stores have tried to bridge the gap between old market and new. The front of Beer Bazaar, which opened in 2015, could almost pass as a Middle Eastern market for Israeli craft beer.
It's narrow and crowded, advertising a wide range of Israeli breweries and selling varieties that can be hard to find elsewhere.
But the back looks like a comfortable pub, where patrons can order dinner along with their drink.
One sandwich on the menu is named after filmmaker Quentin Tarantino, in honour of the time he ate there with his Israeli fiancée, Daniella Pick.
Yarden Rivlin, who works at Beer Bazaar, pointed out that the bars and restaurants tend to keep different hours than the food stands, so there is not too much conflict.
He feels the shuk has retained its character — even if the offerings have changed.
"In the shuk, everyone needs to be friends with everyone," said 25-year-old Rivlin.
"Everyone brings a different kind of personality. During the day, the stores are open and there are fruits and vegetables and nuts and sweets, and at night we open up the tables and the atmosphere changes. It's a shuk — just a little different."