HANDS ON: Young visitors are fascinated by the multimedia presentation projected on to giant shards of ice at the Canadian Museum of Nature
Telegraph Editor Paul Harris visits Canada's capital city that tourists often forget and finds one very strangely disappointing aspect
'AXE throwing' was the intriguing item on my tour schedule. Surely some sort of ancient Ottawa sport, associated with early native settlers, requiring a keen eye and a steady hand, whatever it entailed.
Which made the previous entry on the itinerary (cryptically titled 'Sip, Axe and Relax') even more bizarre and worrying . . . Stray Dog Brewing, organised by a company called Brew Donkey.
A few pints of strong ale didn't seem the ideal preparation for taking aim with an axe.
But axe-throwing is a modern innovation, ever-popular with the ever-burgeoning number of tourists and locals who belong to various leagues.
Set up by the Battle Axe Throwing League, in a former warehouse, there are what resemble huge dart boards.
The idea is to chuck actual axes at the wooden target . . . which, with practice, become easier to hit. But the hard part is getting it to remain embedded as splinters fly in all directions.
It becomes more difficult (and more lethal) as competitors progress to the next round and on to long-handled, heavier axes with far bigger heads.
No wonder you're advised to stand well away as a motley crew of competitors hurl their finely sharpened weapons.
Bearing in mind that this all followed said brewery tour, it was remarkable that no-one suffered any harm.
The Stray Dog Brewing tour had begun in equally unconventional manner . . . aboard, of all things, a yellow school bus.
"Be nice to the driver," advises a sign. Whether that's for the adult payload en route to the Stray Dog and Vimy craft breweries, interspersed by the axe-throwing, or the young Bart Simpsons who are transported daily to school.
I'd arrived in the Canadian capital a couple of weeks or so after the controversial inauguration of Ottawa's National Holocaust memorial.
There had been absolute horror, when it was realised that its plaque failed to mention that Jews were the majority of the victims.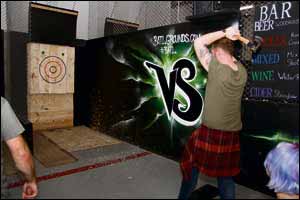 AXE-throwers aim for the target after a short practice session

It was hurriedly removed and immediate plans were hurriedly made to replace it.

The monument is a stark, concrete stylised Magen David shape which took a decade to complete, at a cost of $7.2 million.

Until last October, Canada had been the sole allied nation not to have a national Holocaust memorial.

The first Jews settled in Ottawa between 1857 and 1889.

Notable was Ukrainian peddler Jacob Freedman, who arrived in 1891 and established what became the largest wholesale grocery concern in eastern Ontario and western Quebec.

A plaque commemorates his achievements and his slogan, "Well bought — half sold".

A visit to what was billed as "a small exhibit", on the Canadian Jewish Experience, at the Canadian War Museum, was a little under-whelming in its, well, small scale, which amounted to a large panel of information.

It did, however, elicit some interesting facts about Canadian Jewry, compiled to mark the country's 150th anniversary last year.

Some 38 per cent of male Jewish Canadians (16,880) volunteered for Second World War service and Sgt (later Col) David Hart was awarded the Military Medal for gallantry at Dieppe.

I learn, too, that the first president of eBay, Jeff Skoll, was a Canadian Jew and that, in the 1860s, to Montreal brothers, Jacob Henry and Jesse Joseph, helped develop Canada's first telegraph system and the St Lawrence Railroad.

And on the political front, when Ezekiel Hart was elected to the legislature of Lower Canada, in 1807, he was barred from office because he was Jewish.

But, by 1871, Henry Nathan, from British Columbia, was the first Jew to be elected to the-then new Canadian House of Commons.

Ottawa today has a Jewish community numbering 15,000 and a variety of kosher eating places, including the Rideau bakery and Babis dairy restaurant.

Canada last year celebrated the 150th anniversary of its confederation — the unification of the three separate colonies of Canada, Nova Scotia and New Brunswick into a single dominion within the British Empire called Canada.

It's easy to forget that the country is one of the largest in the world in terms of land mass and a favourite trivia question for the identity of Canada's capital city often elicits the wrong answer — despite the fact that Ottawa has held that distinction since 1857.

A statue of Sir Wilfrid Laurier, the country's first French-Canadian prime minister (1896-1911) gazes down from Parliament Hill over the city he believed should be "the Washington of the North".

The magnificent parliament building is so reminiscent of our very own House of Commons.
The fearsome looking Daspletosaurus, predecessor to the Tyrannosaurus, at the Canadian Museum of Nature. It lived in Canada up to 77 million years ago

Where better place to learn of not only the country's but Ottawa's own early days than the Canadian Museum of History which takes visitors on a 15,000-year journey?

There, too, is housed what is reputedly the world's largest indoor collection of totem poles.

Complementing that is the Canadian Museum of Nature with its new, permanent Canada Goose Arctic Gallery, which includes a permanent multimedia installation projected on giant shards of ice.

An impressive collection of dinosaur remains is easily dwarfed by the 65-foot skeleton of a blue whale that is one of the first sights to greet visitors. Alberta was one of the first areas where dinosaurs were discovered.

I marvel at the Rideau Canal, opened in 1832 to connect Ottawa to Lake Ontario and the Saint Lawrence River.

Most of the excavations were carried out by thousands of mainly Irish navvies who worked alongside French-Canadian labourers in harsh conditions.

The 202-kilometre waterway was constructed as a precaution in case of war with America. Scottish stonemasons were also heavily involved.

A planned hike through the 90,000-acre Gatineau Park was washed out by torrential rain. But that had its upside.

The National Capital Commission provides wooden shelters with log-burning stoves for picnickers and for overnight stays when visitors are stranded by adverse weather.

It was a cosy experience which made even the sodden conditions outside appear attractive.

Don't miss a chance to sample Canada's national snack, the Beaver's Tail, at any outlet in the city. This cinnamon and sugar-coated fried dough delicacy is the most moorish of indulgences.

Did anything about Ottawa disappoint me? Sadly, yes.

Ottawa Senators were taking on Detroit Red Wings at the Tire Centre in the second tier of the National Hockey League.

I was assured (nay guaranteed) that a good fight was part of the spectacle.

More sparks fly during an average English Premier League match, but it seems I chose the wrong day, although the spectacle itself was brilliant as the game ended in a tense shoot-out.

That aside, goodness knows why so many tourists tend to eschew Ottawa, a destination that truly has it all.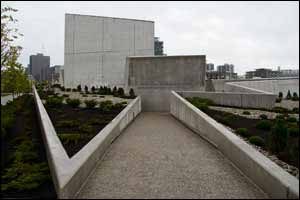 OTTAWA'S Holocaust memorial that opened amid controversy

Further information: www.ottawatourism.ca

Air Canada offers more daily flights from the UK to Canada than any other airline. From London Heathrow, it operates the only daily direct service to Ottawa, with return Economy flights starting from £555.77 (including taxes). www.aircanada.com or phone 0871 220 1111.

Where to stay: The Westin Ottawa: www.westin.com/Ottawa

Destination Canada: www.keepexploring.ca

Canadian Museum of Nature: www.nature.ca

Canadian War Museum: www.warmuseum.ca

National Gallery of Canada: www.gallery.ca

Canadian Museum of History: www.historymuseum.ca

Tours Expedition: www.teottawa.ca

Ottawa Senators: www.senators.com