Telegraph Editor Paul Harris with Cochin's oldest Jew, Sarah Cohen and her devoted Muslim carer Thaha
Paul Harris visits a fascinating Jewish outpost in southern India and meets the country's oldest surviving Jew
SARAH Cohen scrutinises me closely as I sit down to speak to her. At 96, her best days are behind her and Alzheimer's has robbed her of the lucidity for which she was renowned.
We are in her modest bedroom-cum-sitting room in Cochin's Jew Town, in Kerala, southern India.
In a moment of clarity, in a tongue which I could not discern, her rebuke was obvious, and confirmed by her carer: "Why are you writing on Shabbat?"
The fact that she is watching television had escaped her, and Shabbat had ended more than two hours earlier.
But nevertheless Kerala's oldest Jew still remains true to her Orthodoxy, even if she is confused these days.
She is one of five Pardesi, or white Jews, left in India's southernmost state, all of whom are observant.
Twenty six Malabani (black) Jews also still survive. But the near-legendary Jewish community of Kerala, known as God's own country, is rapidly disappearing and within the next decade will be no more.
The last wedding was in 1983 and the only Jews remaining are extremely elderly.
Sarah's living quarters are adjacent to the shop that she opened in 1980, selling kippot and matzo and challa covers that she hand-made, together with other souvenirs.
When she could no longer stitch, four years ago she passed on the skills to her trusty helpers, Celine, a Catholic, and Thaha, a Muslim, whom she describes as her adopted son, having not been blessed with children of her own.
He made the kippot and Celine embroidered the cloths.
Today, the work is outsourced, but is still produced to Sarah's original specifications, each item bearing her name.
Celine and Thaha are totally devoted to Sarah, and are entirely immersed in the history and traditions of Kerala Jewry, ensuring that she eats only kosher food about which she is scrupulous.
Kosher supplies come from Mumbai. As recently as 14 years ago, the community baked its own Pesach matzot, but now they are imported from Israel.
Sarah was born in Cochin to Abraham and Kitty Cohen. The family can trace its roots back 500 years.
In 1942, she married Jacob Eliahu Cohen, a tax official, and a distant relative of her father.
When Jacob retired in 1970, the couple travelled for 10 years, after which Sarah opened her shop, Sarah's Hand Embroidery. She has been widowed for 29 years.
Previously, she has lamented the disappearance of the old life there when there was scarcely a non-Jew in sight in Synagogue Lane and Jew Town.
"This was once our place, full of only our people," she said.
"Now after the others left, gone to Israel, gone overseas, or just gone — the Kashmiris, the Muslims, the Christians have come.
"They're good people, they take care of us. But they're not our kind. The old life is gone."
She recalled wistfully when they would sing and visit each other's homes during Jewish festivals.
"The men would drink, tell jokes and old stories," she said.
"The women would sing Cochini wedding songs, cook together for the festivals, play cards on tables set out in the street.
"Now, we hardly ever sit out. And there's nobody to talk to.
"If there's a party, who'll come? The old, the dead?#
When Sarah's husband died in September, 2006, the community also lost one of the few people able to pass down the traditions and to teach young boys about Judaism.
By all accounts, Sarah and Jacob held virtual celebrity status.
He is buried in the special Jewish cemetery about 100 yards from their home and where it was once forbidden for black and white Jews to be buried alongside each other.
Shortly before Shabbat, I wander down Synagogue Lane with its preponderance of souvenir shops.
Many bear signs reading, "hassle free", but it's actually anything but.
Several shopkeepers spied me and insisted that the previous day I'd promised to visit their emporiums. Presumably they use the same line with all conspicuous tourists, although I did wonder whether they had actually recalled my fleeting, hurried visit the day before.
"Don't buy anything," they all exhort individually, as if reciting a well-rehearsed script.
"Just look in. I just want you to see."
Store owners of all faiths are quick to point out that the synagogue is closed and then greet me, "Shabbat Shalom".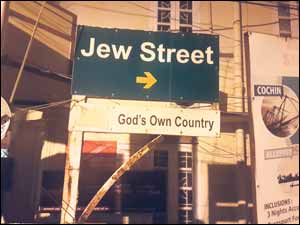 SIGN telling visitors that they have arrived in the famous area

Many of the shopfronts display Magen Davids.

Even my taxi driver-cum-guide is in on it, presumably on commission.

He insists on taking me to what he had described as a museum.

In reality, it was a shop selling what were extremely dubious antiquities, possibly of fairly recent vintage.

He confessed later, after I had observed that it was not a museum, that every visitor he introduces, even if they buy nothing, is noted and once a month he receives a phone card for 200 Rupees (about £2.20) and a new shirt annually.

Bearing in mind that a senior software engineer receives an annual salary of just 627,000 Rupees (about £6,900), £2.20 is no mean sum.

One shop that caught me eye for some reason — possibly because no-one exhorted me to enter — was Little Queen Embroidery.

All proceeds have gone to the wives and widows of fisherman for the past 75 years and it is run by the Cochin Diocese, with 248 ladies undertaking all the work.

A Shabbos cloth, costing 1,250 Rupees (about £13.78), takes 10 to 11 days to make and the women receive a maximum of 100 Rupees (about £1.10) a day for their work, according to the manager Thomas PE (the charming way the locals provide their names).

He showed me the intricate micro-stitching used for some of the products — a technique smaller than petit point and one only three remaining women worldwide can still employ.

Another technique is the classic French knot. Only four women in the world retain the skill.

A single flower takes three weeks to complete. The entire product that Thomas showed me involves two months' work and he was offering it for 4,200 Rupees (about £46.38). And then, out came the scrapbook as Thomas pointed to the pictures of his proudest moment — the visit, in November, 2013, of the Prince of Wales and the Duchess of Cornwall.

Camilla bought dresses, tablecloths and napkins for herself and gifts for her grandchildren.

And, on her return to Britain, she placed further orders through the High Commission, as recently as Xmas, 2017.

One man who has preserved a small piece of Jew Town tradition is Jose Dominic, chief executive of CGH Experience Hotels.

He has converted the AB Salem House and the W Ezekiel House to reasonably priced B&Bs.

For around $70 (about £53), a night visitors can experience real Cochin, right in the heart of the old Jewish area.

Salem, in 1952, was able to convince Israel's first Prime Minister David Ben Gurion that the Malabari were fully Jewish and arrived in India during the reign of King Solomon.

Historically, they have been described as black, even though their skin is brown.

Salem was responsible for building seven synagogues in Cochin, reflecting the previous size of the community.

Abraham Barak Salem wrote in 1929: "The little town is not a town at all. It is a street that has been built religiously and not as a ghetto, and in it the Jews of various grades live, clinging to the ancient ideas."

Jews first arrived in Mala and Chendamangalam, about 40 kilometres from Cochin, around 70 BCE.

Research suggests that the reason Thomas the Apostle travelled from Galilee to Kerala in 1CE, rather than Greece, was because there were already four synagogues and an existing Jewish community there.

Jews never experienced any persecution in the region until the Portuguese arrived.

Jewish communities were originally established in what was the Kingdom of Cochin in southern India.

One of the earliest contemporary references to Jews was by the mediaeval Jewish traveller Benjamin of Tudela in the 12th century.

He wrote that they were "good and benevolent", knew the laws of Moses and the prophets and to a small extent Talmud and halacha.

Jews at that time developed Judaeo-Malayalam, a dialect of the Malayalam language.

It is said that Rabbi Ezekiel in 1750 brought the tiles from China for the first Cochin Synagogue.

The original building was erected in 1568 but burned down by the Portuguese.

The arrival of the Dutch in around 1665 saw it rebuilt.

Nearby houses were built contiguously to form an eruv.

Its position, at the end of a blind alley, was apparently deliberate, as far from pollution as possible.

The Pardesians had arrived in the 18th century after fleeing Spanish persecution.

Jews were later feted by Kerala's rajas and enjoyed special privileges. The land on which the Cochin Synagogue was built was protected by the raja.

Today, as many as 8,000 Jews of Kerala origin live in Israel.

Edna Fernandez, in her book The Last Jews of Kerala (Portobello), squarely lays the blame for the demise of Kerala Jewry at its own door, through apartheid.

"Different skin colours meant there were too few intermarriages, so the community gradually dwindled," she wrote, adding that there had been "bitter centuries-long feuds over who arrived first in Kerala".

Despite the paucity of Cochin Jewry, the community struggles on.

For Rosh Hashana and Yom Kippur services in the old synagogue were led by a rabbi from Israel. On Succot, Rabbi Jonathan Goldschmidt came from Britain.

They managed a minyan for the yomim tovim, but only just. There were 11 men present.

The shul opens for services every Friday night and Shabbat morning. Invariably, there is only one congregant, but that can be boosted by tourists. The last wedding was in 1983.

A good two-hour drive from Cochin is the synagogue of Chendamangalam, a small town in Paravur Taluk, Ernakulam district.

The shul was built in 1614 CE and is in a wooded area. In its courtyard there are old Jewish graves, including one of a Jewish woman, dated 1264 CE.

Jews arrived in Chendamangalam after the destruction of the second temple in 69CE and moved to Fort Kochi in 1341 after the great flood there.

The synagogue was extensively renovated in 1938.

All eight synagogues in Kerala built during the recent centuries — located at Chendamangalam, Paravoor, Mala, Kochi and Ernakulam — have similar traditional architectural features.

The remaining Jews of Cochin still enjoy traditional dishes.

On Shabbat, they eat Amin, made from rice meal mixed with tomato paste.

They also enjoy fish balls, whose ingredients are minced fish with onions, garlic and chilli and added carrot, served in its own broth.

To break the fast after Yom Kippur, Cochin Jews eat a dish called Ooral.

Wheat is soaked in water and beaten as more water is added until there is a fine mixture like a paste. It is transferred to plates, sugar is added and it is left to set.
---
If you have a story or an issue you want us to cover, let us know - in complete confidence - by contacting newsdesk@jewishtelegraph.com, 0161-741 2631 or via Facebook / Twitter