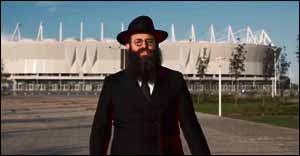 GAME ON: Rabbi Chaim Danzinger outside the stadium in Rostov, which will stage matches at the World Cup
SOUTH American Jewish football fans can expect a warm welcome in Rostov-on-Don during the World Cup — from the Russian city's Chabad House.
Brazil, Mexico and Uruguay are all due to play there in a number of their group games.
And it will be a new experience for Chabad's rabbi in Rostov, Chaim Danzinger.
Toronto-born Rabbi Danzinger told me: "Being Canadian, I am more of a hockey fan, but obviously the World Cup is a huge event and everybody is excited about it.
"For Chabad, it will be a great opportunity for Jewish supporters of Brazil, Mexico and Uruguay to visit us, take part in Shabbat and eat kosher food.
"Rostov has such a rich Jewish history and I hope that they will be inspired — and not just by the football, but also on a spiritual and Jewish level."
All three of those countries have large Jewish communities, especially Brazil, which is home to around 120,000 Jews.
Rostov's purpose-built Rostov Arena, which will host World Cup matches, is only a 15-minute walk from the Chabad House, too.
Rabbi Danzinger said: "It is the first time such a large international event has taken place here. Everybody has been talking about it."
And the 37-year-old is set to experience his first football match on Sunday, as he has been invited to watch Brazil's first game when they meet Switzerland.
He will be supporting Russia, but said he will also be happy in the unlikely event of England winning the competition.
Rabbi Danzinger and his wife, Pittsburgh-raised Kalia, moved to Rostov 10 years ago.
He already had a connection to Russia and Ukraine, as he led summer camps there and also volunteered in an orphanage.
The Danzingers had been working in California when they were asked to consider moving to Russia.
He explained: "It is a city with a lot of Jewish history and connections.
"For example, Alexander Pechersky, who led the uprising at the Sobibor concentration camp, was raised in Rostov.
"Fedor Mikhailichenko, who protected and saved Rabbi Yisrael Meir Lau (later the Ashkenazi Chief Rabbi of Israel) at Buchenwald concentration camp, was from Rostov."
Rabbi Danzinger estimated that there are around 10,000 to 15,000 Jews in the city.
"It is important to note in Russia that you can always meet Jews who do not know that they are Jewish," he added.
"You can sit down with someone and they will tell you that their mother or grandma was Jewish, but do not realise that it makes them Jewish, as well.
"There has had to be a lot of rebuilding within the Jewish community because of communism, so we came here to inspire and see the tremendous self-sacrifice people have made to remain Jewish and to embrace Yiddishkeit.
"We have people of all ages in our community and, at the moment, we have 150 kids, aged seven to 14, on one of our Jewish summer camps."
Rabbi Danzinger, who is fluent in Russian and can trace his roots to Ukraine, also said that there is less animosity towards Jews than in other European cities and that the government has been supportive.
"(Russian president) Vladimir Putin has been supportive of local Jewish communities in Russia," he continued. "Jews walk around in kippot.
"There are incidents like anywhere else, but the local government look after us."