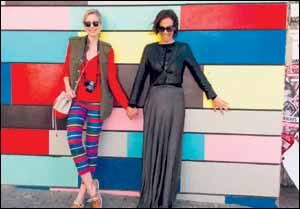 TLVstyle is a trailblazer in the new field of fashion tourism
For those bold enough to leave the traditional tourist routes in Israel and wander into the design studios and workshops of Tel Aviv fashion designers, new insights and understanding of Israeli culture and society await.
The entrepreneurial spirit and can-do attitude that have made Israel the "Start-Up" nation in technology have also created a vibrant, creative and dynamic centre for fashion design with its heart in Tel Aviv.
Brimming with passion and creative energy, Israeli designers are making strong new statements. A visit to the workshops and studios of Tel Aviv's creative fashion designer world today gives insight into Israeli fashion and the influences that drive it.
Israeli entrepreneur, curator and fashion expert Galit Reismann says: "The Israeli fashion scene is a collection of independent ideas, free of laws, order and history, cut off from rigid cultural rules.
"It's a community of young designers who, with tremendous passion for their profession, work in an impossibly competitive environment — with no state support and with a marked shortage of materials and manpower — in the challenging reality of the Middle East.
"Israeli contemporary design is a cultural and social mirror for Israel at 70."
Reismann has infectious enthusiasm for Tel Aviv, her native city. Combining her deep connection to the city with her passion for fashion, she created TLVstyle, through which she curates boutique tours that bring newcomers and old-timers to Tel Aviv to meet a range of contemporary designers in their out-of-the spotlight workshops and design studios.
"You can begin to understand the challenges that the industry faces on a daily basis, yet we stand in awe of the designers' innovation and creativity that have been born from the very same challenges," says Reismann.
Israel is an exhilarating blend of ancient cultures and cutting-edge innovation.
Reismann believes that after a few hours in and out of studios, one can see these two worlds living in harmony.
Visitors encounter innovation, ancient arts, sustainability, social comment, creativity, cultural attitudes, supplier challengers and more.
Designers draw inspiration from a rich reservoir of cultures and traditions, while combining them with the realities and needs of the modern world. Reflecting Israel itself, their designs are a synthesis of values and traditions reimagined for the modern world.
Reismann notes that many contemporary Israeli designers work with monochrome. She argues that although base colours are easy to wear — and therefore good to sell — the "over-use" of monochrome colours is in part actually due to necessity.
As in other fields in Israel, raw materials are limited, expensive and not always easily accessible.
Elisha Abargel, a prize-winning designer in Tel Aviv, blends traditional craftsmanship with cutting-edge technology.
His latest collection, RomanTek, showcases a yearning for the romanticism of old with a twist of today's tech scene. His bold and fresh designs for independent women come from a hybrid process of creativity. He creates design motifs by hand and then uses technology to digitally produce the fabric.
The lack of choice in raw materials motivated him to create his own digital printed materials in vibrant colours inspired by the energy of Tel Aviv, its sun, blue skies and the Mediterranean.
Innovation comes in many forms. Just as Israel is known for expertise in water desalination techniques and solar energy for a more sustainable world, there are fashion designers that make sustainability part of their approach, such as creative processes that reduce water usage and 3-D printers that minimise waste.
"Israel's textile industry is long gone. In the past five to 10 years, young designers coming out of Shenkar [College of Engineering and Design] and other institutions are reinvigorating and reshaping the field," notes Reismann.
"This revival can be seen in the small independent studios they are opening where they explore the use of new technologies, and new materials."
Fashion designer Danit Peled is a prime example of the hi-tech start-up nation in fashion. A graduate from Shenkar specialising in 3-D printing, she travels light as long as she is near a 3-D printer, as she will happily print out any outfit she needs to wear.
Eden Saadon, while completing her studies at Shenkar, chose to produce a line of feminine handmade lace undergarment items, using a single tool — a three-dimensional drawing pen, the 3Doodle, the first 3-D printing pen available on the market.
By connecting the known visual of traditional knitted lace and the new visual of 3-D drawing of the synthetic material, Eden presents a new visual language with a wide spectrum of creative possibilities. In both cases, this technique does not produce waste; the biodegradable Flexy material is environmentally friendly.
Fashion has always reflected the social-political-economic influencers of the day. The ATA textile factory founded in Kfar Ata in 1934 by Erich Moller, a Jewish industrialist who emigrated from Czechoslovakia, specialised in work clothes and uniforms, expressing the pre-state Zionist and socialist ideology. Every aspect of garment making, from thread manufacture to sewing and packaging, was produced in the ATA factory.
The name of the factory was invented by Israeli Nobel Prize Laureate SY Agnon; ATA is an acronym for the Hebrew words Arigei Totzeret Artzeinu (fabrics manufactured in our land).
Similarly, in the early years of the state, Ruth Dayan, the wife of Moshe Dayan, founded Maskit, the first fashion house in Israel in 1954.
When there was a need to find employment for the many new immigrants who entered the young country, Dayan realised that many of them were skilled in decorative arts such as embroidery, rugs and arts and crafts. Maskit's designs were based on modern European patterns and combined them with ethnic embroidery — a fashion and decorative arts house that helped to create jobs for new immigrants.
There is no equivalent of London's Bond Street in Tel Aviv, and menswear designers are hard to find.
Reismann attributes this fact to the fact that the Israeli market is small and men there, who have not yet developed a strong dress code, are not searching for home-grown items.
"To be a fashion designer in Israel is very challenging," says Reismann, "but to be a menswear designer is doubly challenging."
Until about 10 years ago, the uniform for men in Israel — both casual, going out, or in the workspace — was a T-shirt and jeans.
Ariel Bassan, an interior designer turned fashion designer, is one of the more than 100 designers that Reismann works with when exploring the Israeli fashion design scene with travellers.
Bassan says that men's trends are now changing and the field is developing as men begin to feel free and excited to express themselves through fashion. Inspired by his architectural background from FIT New York, Bassan's garment designs are minimalistic in design and sharp in structure.
Noting the insights that Reismann offers travelers, the UK Creative Tourism Network recently awarded her a prize for "originality in allowing participants to discover the local culture through encounters with its creators."
Reismann is a staunch believer in the local brand of Israel and wants to keep on broadening the platform that allows people from to explore and appreciate the creative fashion community in Israel.
"I love sharing," she sums up. "The excitement in shared experiences and discoveries that happen every day with TLVstyle is my 'brand of coffee' that gets me going every morning!"