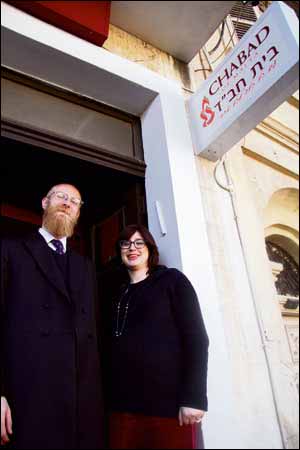 Rabbi and Mrs Chaim Segal
RABBI CHAIM SEGAL and his wife, Chaya, have headed Chabad in Malta since it was established five years ago.
The couple, both Israeli, also run Le Chaim restaurant, in St Julian's, which opens five days a week for lunch and dinner in summer and for dinner only in winter, plus Sunday and Thursday lunch.
The community in Malta numbers only 200 and it is tourists who are the restaurant's main customers. They can also pre-book Friday night dinner and Shabbat lunch.
When the Segals first arrived, some 30,000 Israelis visited Malta annually, but a reduction in direct flights has dramatically reduced that number. Malta is still popular with Israelis, as I discovered even encountering, by chance, in the fishing village of Marsaxlokk, the daughter of former Manchester Bank Hapoalim manager Eli Tal.
Rabbi Segal admitted that getting a minyan is difficult, even on Shabbat, and he and his wife often daven at the other Orthodox synagogue in Valletta whose services are taken by Reuben Ohayon, son of Avraham, the former community president, who died earlier this year.
On Sundays, Rabbi Segal runs classes for about 30 post-barmitzvah-age students and he plans to build a mikva costing €200,000, only half of which has been raised so far. Chabad is looking for a sponsor for the remainder.
The last barmitzvah was four years ago, the next in 2018. Malta has not seen a Jewish wedding since before Chabad was established and Rabbi Segal says, only half-jokingly, that they need more Jewish women to settle in Malta because they are so heavily outnumbered by men. The result is that intermarriage is a problem on the island.
Rabbi and Mrs Segal themselves have three sons and twop daughters, aged 12 months to nine.
Kosher meat, poultry and cheese are available from Chabad and, as Rabbi Segal observes: "Before we came, people couldn't eat kosher."
Erev Rosh Hashana more than 150 guests enjoy yomtov dinner at Chabad, but only 50 actually attend shul the following day and on Yom Kippur. Pesach sedarim are also popular.
Doyenne of the Malta Jewish community is the irrepressible Shelley Tayer, 88. Her second husband, George Tayar, was a direct descendant of the first rabbi of Malta, Josef Tajar, who arrived from Tripoli in 1846.
Visit jewishmalta.com or telephone +356 21570234 or 79233213 for Chabad or L'Chaim Restaurant.